Professor
BA (Geography) Simon Fraser, MA (Geography) Victoria, PhD (Geography) McGill
Email: sandberg@yorku.ca
Quote
"... the concept of climate change itself can be an oppressive force in not only hiding the historical connections of the carbon economy to colonialism, capitalism, and a rampant and exploitative resource extraction, but also the resiliencies, possibilities and alternatives articulated by groups who fight and stand outside the carbon economy. There are, we argue, chilly climates that surround the discussions on climate change that erase, exclude and marginalize alternative views and possibilities." From L. Anders Sandberg and Tor Sandberg, Climate Change - Who's Carrying the Burden? (2010) For a review of the above book, see: http://www.acme-journal.org/vol12/Whitehead2013.pdf
Areas of Academic Interest
Politics of science and planning
Gentrification of conservation
Pedagogies of local place and space
Political economies and ecologies of natural resources
Climate/environmental  justice
Forest, environmental and conservation history
Prospects and limits of sustainability in social democracy
Recent Books
Jocelyn Thorpe, Stephanie Ruterford, and L. Anders Sandberg, editors, Methodological Challenges in Nature-Culture and Environmental History Research (London: Routledge, 2017).
Click image to enlarge
'Overall, the book is a innovative, delightful and thought-provoking piece that will be of interest to any researcher in environmental history. It provides a great starting point for scholars looking to improve on or escape from archival research, and reading it will certainly stir their imagination. I would also argue that the book may be of relevance to the wider community of environmental scholars looking for compelling and engaging methods to teach or communicate environmental research.'
Ricardo Alexio Correia, Federal University of Alagoas, Brazil, University of Oxford, UK, Environment and History journal
**************************
Jennifer Foster and L. Anders Sandberg, editors, Post-Industrial Urban Greenspace: An Environmental Justice Perspective. London: Rutledge, 2016.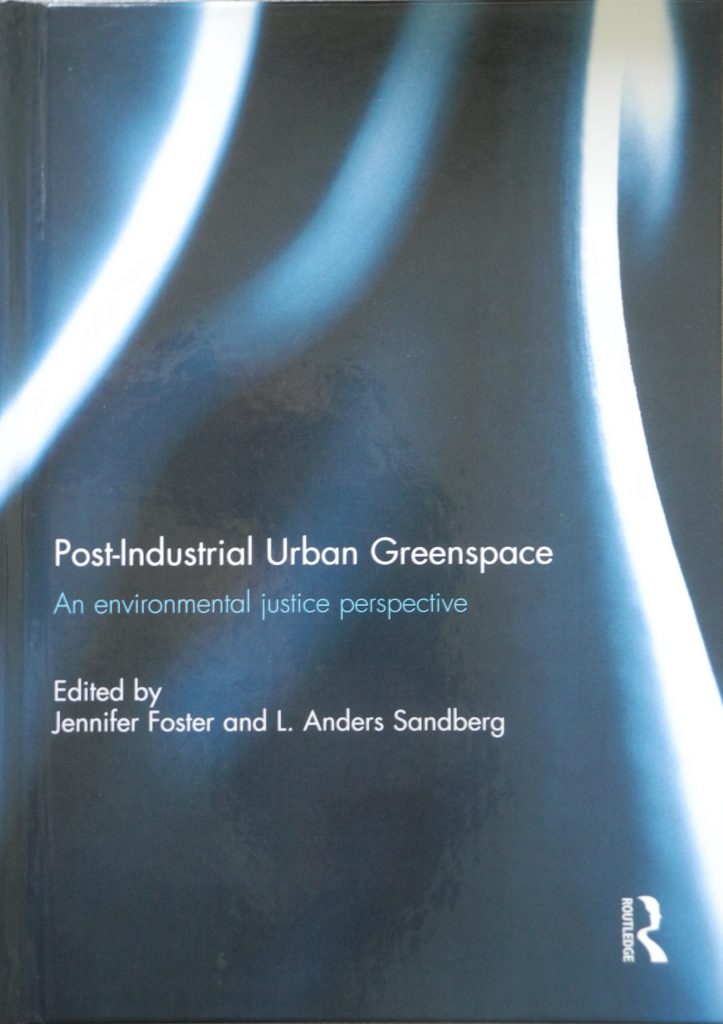 Post-industrial urban spaces typically include abandoned factories, disused rail lines, old pits and quarries, and de-commissioned landfills. In these places, different visions compete for dominance with respect to current and future land uses. Neighbours often view such urban greenspace as polluted, unkempt and weedy, harbouring undesirable biophysical features and people. These are spaces that often become the focus of some form of revitalization, reinvestment and restoration. From the perspective of civic authorities and urban planners, transforming post-industrial landscapes into disciplined and tended greenspace creates the urban conditions and signals of popular contemporary taste that attract investors, gentrifiers, and tourists. But post-industrial spaces are also places where unique and unpredictable human and ecological associations can emerge spontaneously. Such places may contain considerable ecological integrity and biodiversity and host human populations who find a home and respite in such ecologies. They also tell stories of an industrial and urban past that should be acknowledged, understood and (if suitable) celebrated. This volume explores the environmental justice and injustice dimensions of emerging urban post-industrial landscapes, including the ecological politics, cultural representations and aesthetics of these spaces.
****************************************
L. Anders Sandberg, Adrina Bardekjian, and Sadia Butt, editors, Urban Forests, Trees and Greenspace: A Political Ecology Perspective (London: Routledge, 2014).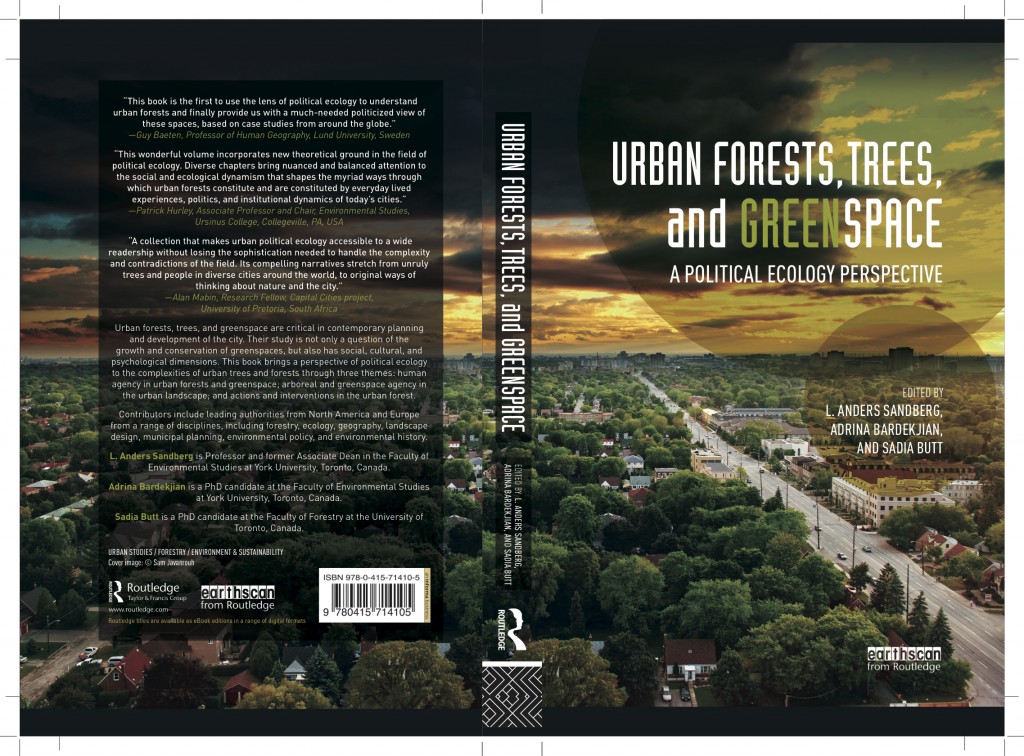 Click image to enlarge
Review: "This remarkable book brings a new perspective to urban forests and green spaces as political and social constructs.  The transdisciplinary, politicized view of urban ecology in this collection of essays highlights what one author calls the "commodification of biophysical green resources" as a determinant of how, where, and why we interact with nature in cities.  Power-laden processes of control, decision making, and governance are framed in a critique of neoliberal capitalism where the boundaries of public and private and natural and nonnatural are challenged.  Human agency is part of the equation in which the urban forest and trees themselves are considered as "co-constituents" of the ecological process.  The ideas here are pivotal as a critique of urban landscape.  They will engender lots more study.  To be honest, this reviewer found it difficult to agree with all the volume's authors.  The nearly 40-word-long definition of the emerging discipline of political ecology was almost long enough for a whole review in Choice.  But more importantly, the essays opened his eyes to processes of urban cultural ecology that are hidden in plain sight.  For critical readers at any level, nothing could be more valuable."
Choice, S. Hammer, Boston University
*******************
L. Anders Sandberg, Gerda Wekerle, and Liette Gilbert, The Oak Ridges Moraine Battles: Development, Sprawl and Conservation in the Toronto Region (Toronto: University of Toronto Press, 2013)
Click image to enlarge
Check out a book review from Novae Res Urbis, 16, 25 (June 19, 2013), 2, 5.
Click text to enlarge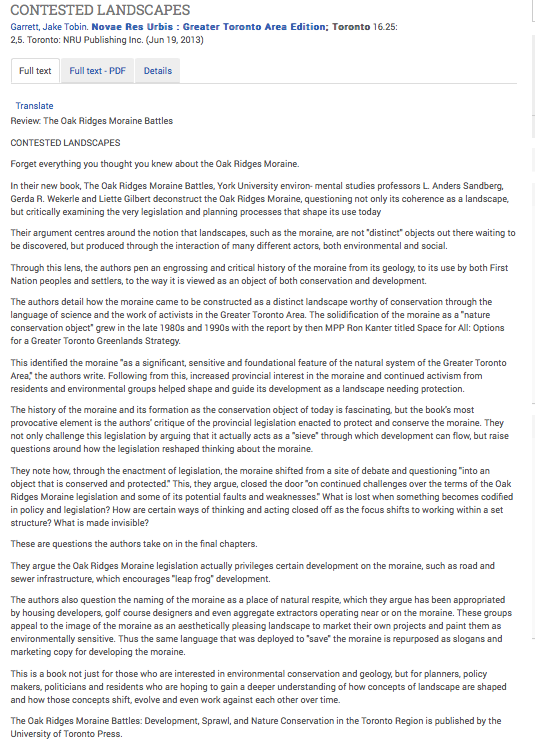 *******************
L. Anders Sandberg, Stephen Bocking, Colin Coates, and Ken Cruickshank, editors, Urban Explorations: Environmental Histories of the Toronto Region (Hamilton, ON: L.R. Wilson Institute for Canadian History, 2013).