I like teaching and try to work it into my everyday thinking, action and research. I frequently introduce students to critical thinking, writing and presentation skills through lectures and assignments that focus on reading different stories around the university campus, the students' own families, and everyday environmental issues. One of my central messages is that nature and culture are intricately intertwined and that, for example, our bodies constitute the very first environment that we inhabit. Another central theme in my courses is environmental justice, where I consider the violence done to not only non-human environments but also human bodies in the form of ableism, ageism, classism, racism, and sexism. One central component of my teaching is the Alternative Campus Tour which seeks to introduce and problematize a series of campus sites to students and the general public. For the website of the Alternative Campus Tour, see below:
http://alternativecampustour.info.yorku.ca
Sandberg, L. Anders, J. Johnson, R. Gualtieri and L. Lesage), "Re-Connecting with a Historical Site: On Narrative and the Huron-Wendat Ancestral Village at York University, Toronto," Ontario History, CXIII, 1 (Spring 2021), pp. 80-103.
Sandberg, L. Anders, "Subverting the Enterprise University: The Case of the Alternative Campus Tour at York University, Toronto, Canada," International Studies in Widening Participation, 2, 2, 2015, pp. 12-19.
Sandberg, L. Anders, "On Stockades and Bridges: From York University to the Jane and Finch Neighbourhood." In (Sandberg, A., S. Bocking, C. Coates, and K. Cruikshank) (eds.) Urban Explorations: Environmental Histories of the Toronto Region. Hamilton, ON: L.R. Wilson Institute for Canadian History, 2013, pp. 96-118.
Bardekjian, Adrina, Michael Classens, and L. Anders Sandberg, "Reading the Urban Landscape: The Case of a Campus Tour at York University, Toronto, Canada," Journal of Environmental Studies and Sciences, published on line 21 July 2012.  DOI 10.1007/s13412-012-0084-x
Sandberg, L. Anders, "Promoting Environmental Education at the University: The Campus as a Sticky Wicket," Our Schools, Our Selves, Vol. 19, No. 1 (Fall 2009), 25-32.
Sandberg, L. Anders and J. Foster, "Stormy Weather: On Hurricanes, Water, and Hard Choices at York University," Critical Times, Vol. 3, No. 5 (April 2006), 6-7.
Sandberg, L. Anders and J. Foster, "Playing Tennis at York University: Game, Set and Match Tennis Canada," Critical Times, Vol. 3, No. 1 (January 2004), 6.
Stong Pond at York University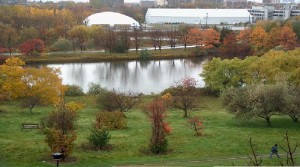 Click image to enlarge
Stong Pond on the York University Campus before it was expanded. The Pond in its old form was deemed deficient since it was considered too small to hold the runoff for the campus. However, this position ignores the deficiencies of the Pond's "headwaters," the paving over of the campus and the resultant massive amount of water that flows into the Pond.